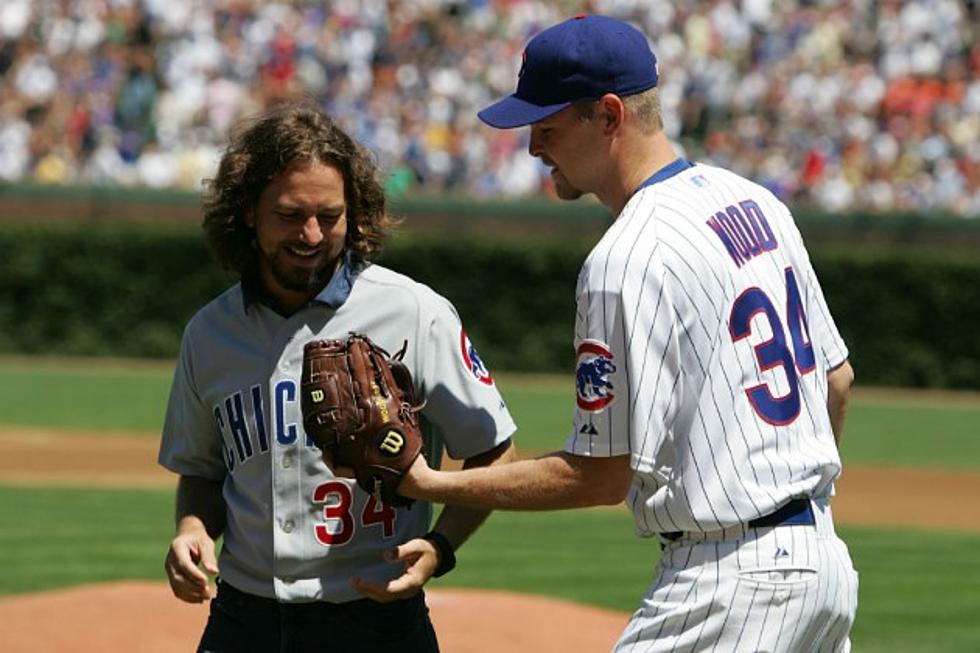 Chicago Cubs Sing 'All the Way' With Eddie Vedder at Benefit Concert
Jonathan Daniel, Getty Images
Eddie Vedder is known for being a loyal Chicago Cubs fan, even penning "All the Way," his ode to the team. Well, during the Hot Stove Cool Music benefit concert at Chicago's Metro last night (July 9), the Cubs had the chance to show the Pearl Jam frontman some love in return, joining him on stage during his set-closing performance of "All the Way." Watch below:
What's more, not only did the Cubs' players (including Jason Hammel, Jon Lester and Anthony Rizzo, as Jambase points out) and management join Vedder for an "All the Way" singalong, the team also eventually surrounded the singer, chanting his name. That can be seen below:
The concert sought to raise money for Cubs president Theo Epstein's non-profit, Foundation to Be Named Later. Vedder opened his set with a cover of the Beatles' "You've Got to Hide Your Love Away" and played a collection of other covers as well as his own solo and Pearl Jam material. Fan-shot clips of Vedder's performances of "Corduroy," "I Am a Patriot" and "Love Boat Captain" and the entire setlist (via Alternative Nation) can be found at the bottom of the page.
Earlier yesterday, Pearl Jam were officially revealed as one of the headliners for this year's Global Citizen Festival in New York City. The concert will take place on Sept. 26 in Central Park and will also feature Coldplay, Beyonce and Ed Sheeran.
Eddie Vedder -- Set List, July 9, 2015
"You've Got to Hide Your Love Away"
"Far Behind"
"Love Boat Captain"
"Love/Building on Fire"
"Watch Outside"
"I Am A Patriot"
"Wishlist"
"The Kids Are Alright"
"Elderly Woman Behind The Counter In A Small Town"
"The Weight"
"Comfortably Numb"
"Corduroy"
"Rockin in the Free World"
"All the Way"
Worst to First – Every Pearl Jam Album Ranked
More From Ultimate Pearl Jam