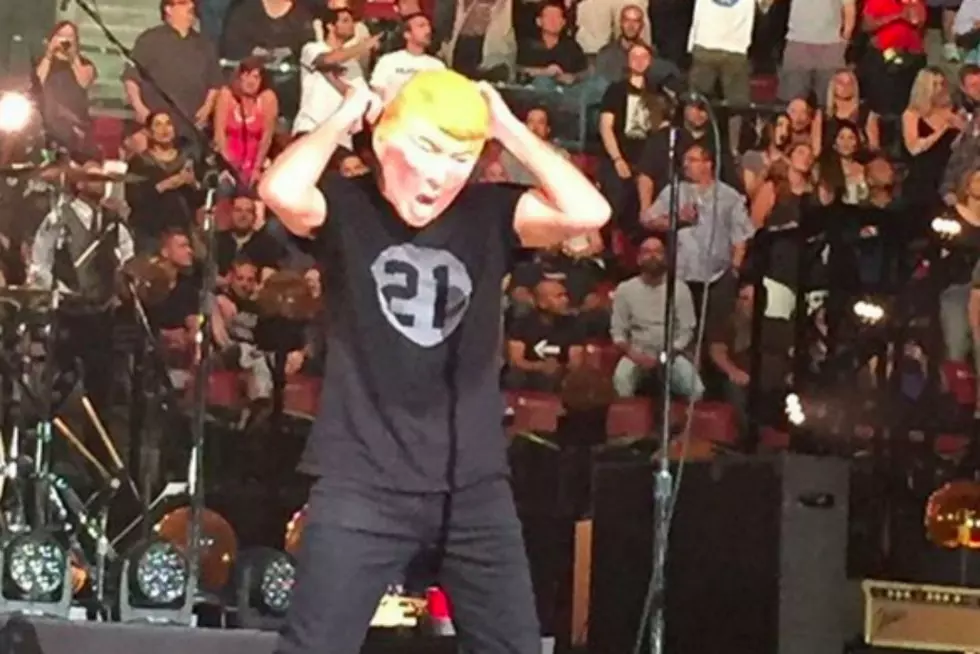 Pearl Jam Cover Cheap Trick, Eddie Vedder Wears Donald Trump Mask at Tour Kickoff
Instagram.com/vedderlyrics
Pearl Jam kicked off their 25th anniversary tour in memorable fashion on Friday (April 8) in Fort Lauderdale, Fla.
Eddie Vedder, not one to shy away from politics or festive masks, sported Donald Trump headgear and showed off some very cool moves during the band's performance of "Do the Evolution." (Some pertinent lyrics: "Admire me, admire my home / Admire my son, he's my clone / This land is mine / This land is free / I'll do what I want but irresponsibly.") The Pearl Jam frontman also donned a George W. Bush mask during the band's Riot Act tour in 2003, so we imagine he's gathering quite the collection.
"Do the Evolution" appeared near the end of the show. Earlier in the set, the band covered new Rock and Roll Hall of Fame inductees Cheap Trick's "Surrender." Incidentally, Vedder and Mike McCready just performed "I Want You to Want Me" with Cheap Trick at McCready's 50th birthday party last month. You can see fan-shot clips of "Surrender" and "Do the Evolution," along with the entire set list (via Consequence of Sound), below.
Pearl Jam's tour continues tomorrow in Tampa, Fla. They have more stadium shows planned through August, culminating with a two-night residency at Wrigley Field.
Pearl Jam -- April 8, 2016 Set List
"Go"
"Mind Your Manners"
"Corduroy"
"Given to Fly"
"Help Help"
"Deep"
"Nothingman"
"Elderly Woman Behind the Counter in a Small Town"
"Severed Hand"
"Unknown Thought"
"Sirens"
"Happy Birthday"
"Surrender" (Cheap Trick cover)
"Even Flow"
"Amongst the Waves"
"I Am Mine"
"Swallowed Whole"
"Who You Are"
"Do the Evolution"
"Why Go"
Encore:
"Yellow Moon"
"Footsteps"
"Last Kiss" (Wayne Cochran cover)
"Black"
"Comatose"
"Lightning Bolt"
"Porch"
Encore 2:
"Light Years"
"Better Man"
"Alive"
"Baba O'Riley" (The Who cover)
"I Am a Patriot" (Little Steven cover)
"Indifference"
Worst to First: Every Pearl Jam Album Ranked
More From Ultimate Pearl Jam