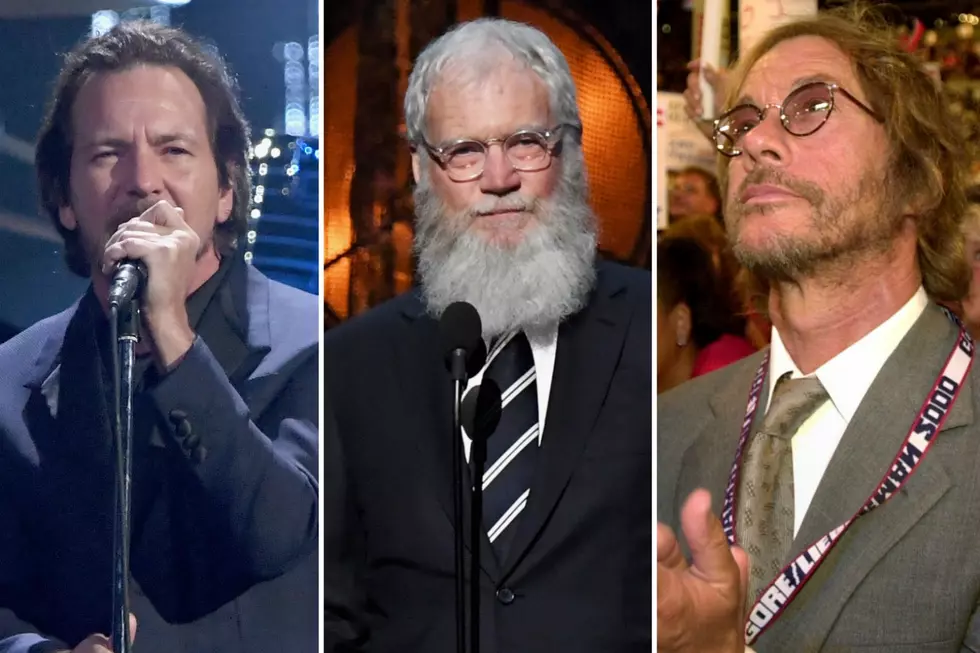 Eddie Vedder Performs Warren Zevon Song for David Letterman
Mike Coppola (2) / David McNew, Getty Images
The legacy of David Letterman's comedic talent was honored last night when the former host of The Late Show received the Mark Twain Prize for American Humor. At a ceremony at Washington, D.C.'s Kennedy Center, many luminaries of the genre came out to celebrate the occasion, including previous winners Bill Murray and Steve Martin. But no tribute could be more appropriate than Eddie Vedder's cover of Warren Zevon's "Keep Me In Your Heart." You can watch fan-shot video of the performance below.
Last April, Letterman inducted Pearl Jam into the Rock and Roll Hall of Fame. The band, which appeared on his show 10 times over the years, was one of Letterman's favorite musical guests. He told the crowd during the induction speech, "In 1991 things in the world of musical culture changed with an album entitled Ten. It was like a chinook coming out of the Pacific Northwest. It had an anger to it and it appealed to twenty-something people who felt displaced and unemployed and left out. I was almost 50 and even I was pissed off and it was also easy to dance to but that's another deal."
Of course, the speech would not be complete without a mention of another good friend and frequent musical guest. "The nice thing about knowing them for as long as I've known them, I know them as friends as well as cultural icons," he said of Pearl Jam. "And I would just like to say one day I hope to come back here for the induction for my friend Warren Zevon."
Zevon not only guested on the show more than a dozen times, but also filled in for band leader and musical director Paul Shaffer about 20 times. "He was a schooled musician, a former classical pianist and someone who was capable of writing out an entire score," Shaffer told Ultimate Classic Rock back in 2015. "People don't realize this about him. He also fulfilled the other requirement of the show. He was able to make Dave feel comfortable. He was one of Dave's favorite recording artists. When he looked over and saw Warren Zevon there, he got a kick out of that. And I could more easily take time off, because I knew Warren had me covered."
After being diagnosed with lung cancer in 2002, Zevon appeared on Letterman's show one last time. The host gave him the entire hour to discuss his diagnosis, his music and his life, which gave way to one of late-night's most poignant episodes. Before leaving the studio, he handed Letterman his guitar, saying "Take care of this for me."
Zevon's final album The Wind was released just 10 days prior to his death. The album included the song "Keep Me In Your Heart," which Vedder performed alongside Shaffer.
The ceremony will air on PBS on Nov. 20.
Pearl Jam Albums Ranked in Order of Awesomeness
More From Ultimate Pearl Jam