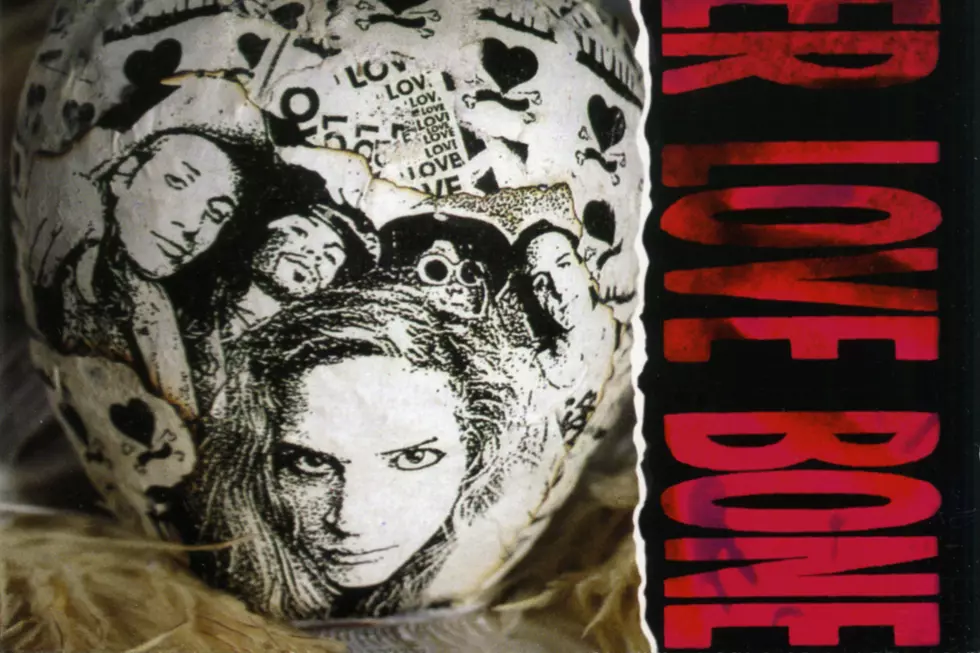 30 Years Ago: Mother Love Bone Release 'Apple' Under Shadow of Death
Polydor
Mother Love Bone's full-length debut, Apple, arrived in stores on July 19, 1990, under a cloud of tragedy. Only four months earlier, frontman Andy Wood died from a heroin overdose. He was just 24.
For his friends in the Seattle music scene, his death was a blow. "I felt really alone when Andy died," Soundgarden's Chris Cornell told Lonn Friend of RIP in 1992. "I spent a lot of time with him and tried to work out his pain creatively. Most of the time I really didn't know Andy was using. I offered to have him live with me, because he had just gotten out of treatment. He was going to live on the island with his parents, where he grew up. I thought that would be harder for him. Most of the time it was me watching him struggle not to shoot up, not to drink. It wasn't like observing Andy's high; it was more like experiencing him squirming."
Things were supposed to be much different for Mother Love Bone. Apple was originally due to be released the same month of Wood's death, and had massive buzz around it. This was thanks in part to the success of 1989's Shine EP, the Seattle band's first major label effort, but also because of Mother Love Bone's unique approach. The group — which, besides Wood, featured future Pearl Jam members Jeff Ament on bass and Stone Gossard on rhythm guitar, as well as lead guitarist Bruce Fairweather and drummer Greg Gilmore — embraced tradition without being beholden to it.
On Apple, the quintet combined funk-metal flash, bluesy Led Zeppelin homages, glam-grunge charisma and hard rock & roll aggression while eschewing hair metal's sleazy pomp in favor of something more soulful. And so although the album definitely had its obvious influences — the acoustic guitar-driven "Stargazer" contains perhaps Wood's best Robert Plant impression, the spaced-out grooves of "Stardog Champion" bring to mind Jane's Addiction and Wood's wild-eyed vocal delivery and attitude on "Holy Roller" conjure Axl Rose — the record presaged the no-frills rock approach that would soon dominate music culture.
Listen to Mother Love Bone's 'Crown of Thorns'
When it was finally released in July, Apple had lost its momentum; in fact, it failed to chart on the Billboard 200. (A 1992 reissue with Shine appended, dubbed Mother Love Bone, did reach No. 77 on the chart, however.) By the end of 1990, Ament and Gossard regrouped in the band Mookie Blaylock (which was rechristened Pearl Jam soon after), and started prepping the music that would end up on 1991's Ten.
Still, Wood's collaborators did their part to keep his memory alive. Ament and Gossard joined new bandmate Mike McCready, Soundgarden's Cornell and Matt Cameron, and producer/keyboard player Rick Parashar to form a Wood tribute band, Temple of the Dog, which released a self-titled album in April 1991. That album's enduring hits ("Hunger Strike," "Say Hello 2 Heaven") help keep Wood's talents — and Mother Love Bone's legacy — alive today.
"Sometimes it makes me sad, and we talk about Andy every day," Gossard told Katherine Turman of RIP in 1991. "We still laugh about him; his jokes and what he would do. Not like, 'I really miss him.' We talk about Andy-isms. A lot of times I catch myself thinking I see him.
"It made me totally refocus, as far as my priorities," he continued. "It had a lot to do with why Mother Love Bone broke up, and going with our gut feelings. Learning to not be afraid to communicate to somebody, even if it's going to piss them off... not allowing yourself to be unhappy in a situation if you can do something about it."
See Pearl Jam and Other Rockers in the Top 100 Albums of the '70s
More From Ultimate Pearl Jam