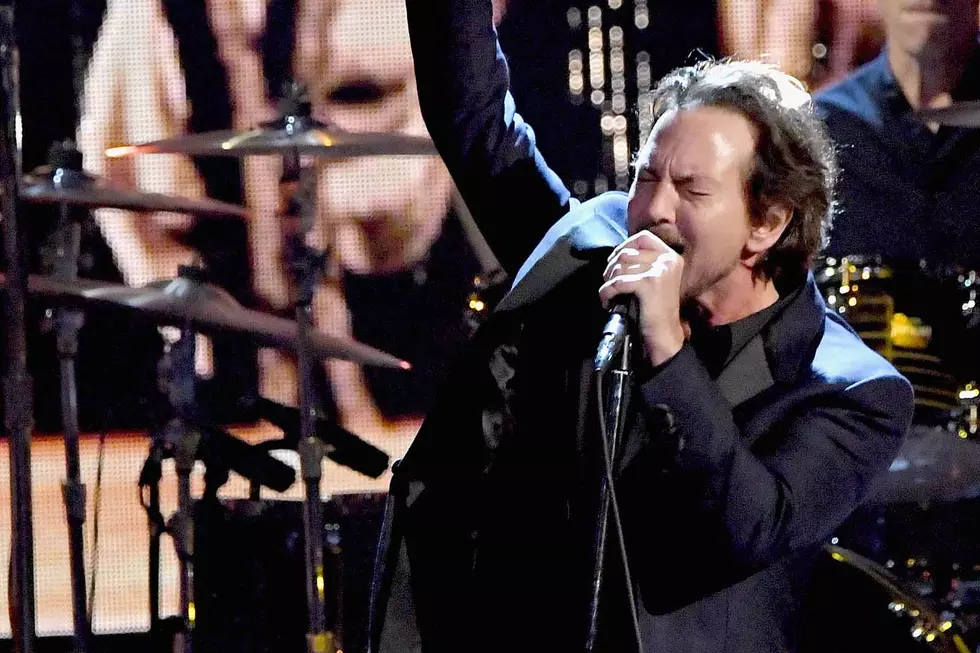 Inside Pearl Jam's 'Gigaton' Liner Notes
Mike Coppola, Getty Images
Pearl Jam albums have always come with extensive liner notes carefully co-designed by the band, and new album Gigaton is no exception.
What would you expect from a group whose bassist Jeff Ament, studied graphic design in college, and whose frontman, Eddie Vedder, once said liner notes are like "you get to read the cereal box while eating your cereal." Here's what you'll find inside the CD booklet.
IMAGES
To illustrate the theme of the endangered environment, Gigaton's photos include narwhals, an erupting volcano, a full moon, northern lights, an asteroid in the night sky, wildfires, factory smoke and storms. The images were taken by Paul Nicklen, the marine biologist and photographer who took the cover photo of a melting glacier; Jeff Ament; NASA and photo agencies Getty Images and Shutterstock.
MADE IN SEATTLE & MONTANA
Much of the album was recorded in the band's hometown of Seattle at GT Studios, Jump Site Studios, and Ballard Bait Shop. But for the first time Pearl Jam also recorded at Ament's home studio Horseback Court in Big Sandy, Mont.
DESIGN
Gigaton's 16-page liner notes were designed by Vedder and Ament, using longtime aliases Jerome Turner and Alnostreet. It was laid out by Ament, Vedder and longtime collaborator Joe Spix. In fact, Spix and Ament recently won a Grammy for their design work on the recent Chris Cornell compilation.
ADDITIONAL MUSICIANS
Keyboards appear on many Gigaton songs. While they are often played by band members, co-producer Josh Evans handles them on "River Cross" and "Buckle Up" while Brendan O'Brien, who has helmed many of their records, makes his only Gigaton contribution with keys on "Retrograde." For the first time in their history, they've looked outside their ranks for backing vocals. Meagan Grandall, a Seattle singer-songwriter who leads Lemolo, lends her voice to "Take the Long Way."
PUBLISHING COMPANIES
As always, the band members have listed their ASCAP song publishing company names.
Scribing C-Ment is Ament. Innocent Bystander is Vedder. Theory of Color is drummer Matt Cameron. Write Treatage is guitarist Stone Gossard. Jumpin' Cat is guitarist Mike McCready.
CREW
It takes a village to make a Pearl Jam album, and there are plenty of folks, old and new, who have helped on Gigaton. In addition to new co-producer Josh Evans, Bob Ludwig again mastered the album, and John Burton co-engineered. Nathan Yaccino did additional engineering on "Take The Long Way." Three techs are credited: George Webb (guitars), Neil Hundt (drums), and Kevin Shuss ("extracurriculars"). Shuss has been on team Pearl Jam since the early '90s, and is also the band's archivist.
ACTIVISM
As is fitting for an album about the Earth, the websites of two ocean preservation organizations are listed in Gigaton's liner notes: Sealegacy.org, which is cover photographer Nicklen's org, and Only.one.
THANKS
Pearl Jam's debut Ten thanked over 80 people and groups. Gigaton has just one or millions depending on how you look at it: "With thanks again from us to you, as always."
The Best Song From Every Pearl Jam Album
More From Ultimate Pearl Jam