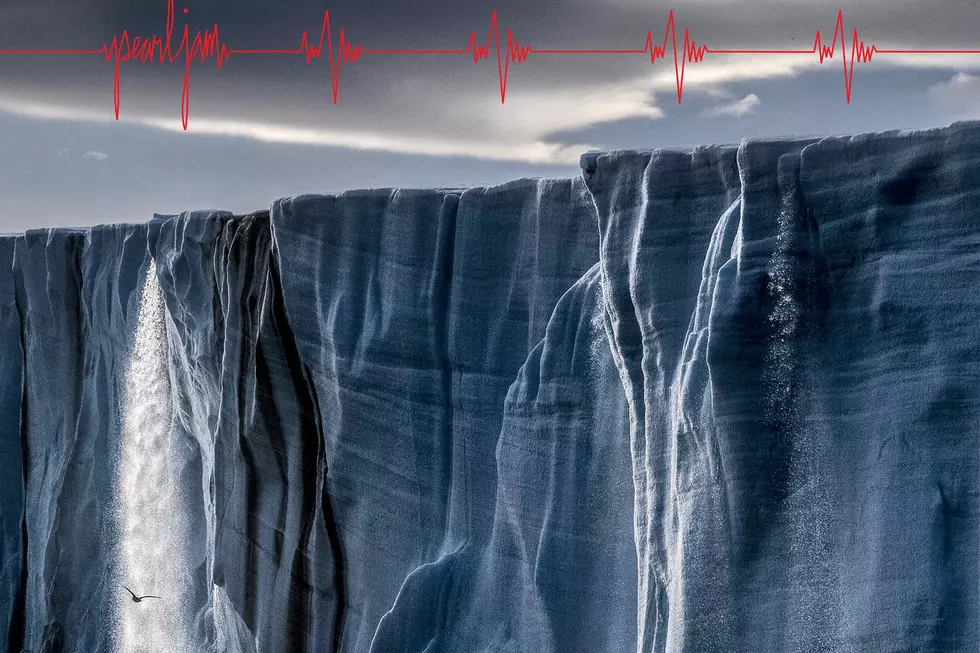 Pearl Jam's 'Gigaton': 10 Cool Details to Watch For
Monkeywrench Records / Republic Records
Pearl Jam's 11th studio album Gigaton unfurls with sonics both surprising — the Talking Heads-equse "Dance of the Clairvoyants" — and familiar — the righteous guitar solos punctuating "Quick Escape" and "Never Destination." But as with all of the Seattle band's efforts, there are layers of references and meaning that reveal themselves if you're paying close attention. Here's a look at 10 themes and other interesting details to listen for when Gigaton hits your turntable on March 27.
The Environment
For a band essentially born on the Pacific Ocean wave that frontman Eddie Vedder surfed while writing the words to "Alive," the only surprising thing about Gigaton being a travelogue through the endangered environment is that the band who has always stood for environmental causes hadn't already done a whole album on this subject in their 30- year history.
Gigaton speaks of "oceans rising with the waves" ("7 O'Clock"), thinking "about the old days of green grass, sky and red wine, should have known so fragile" ("Quick Escape") and "Seven seas are raising / Forever futures fading out" ("Retrograde").
Sea, Moon, Stars
Every Pearl Jam album has been full of natural imagery — water, the moon and stars in particular. 1991's "Oceans," 2006's "Big Wave," 2009's "Unthought Known," and 2013's "Yellow Moon" are just a few of the many examples. Gigaton, however, name-checks nature at every possible turn from the start. The opener "Who Ever Said" gives us "blinking stars beneath you" — through "Superblood Wolfmoon" and "Retrograde"'s "stars align when things are better than right now," to closer "River Cross."
Size Matters
Pearl Jam has taken their time with Gigaton; it's their first album in seven years. But it's also the longest Pearl Jam album ever, clocking in at 57 minutes, beating Vitalogy's 55 plus minutes. If you're curious, the shortest PJ album is 2009's Backspacer (just under 37 minutes).
Pseudonyms
Gigaton's album concept is credited to Jerome Turner and Al Nostreet, psueudonyms Vedder and bassist Jeff Ament, respectively, have been using for decades. "Jerome" and "Al" are derived from their middle names.
There are also some great "real" names, new and old, credited on Gigaton, from new co-producer Josh Evans, who plays keyboards on a few songs, and the cover's melting glacier photographer Paul Nicklen to longtime crew folks George Webb and Kevin Shuss.
Resident Typist
As always, the man behind the old school typewriter for various graphic uses on this album is Eddie Vedder. He once told Billboard, "I respect the internet, I prefer the typewriter" If this particular type font looks familiar, it should. It's the same typewriter he used for some of the the Binaural liner notes 20 years ago. Vedder has also used a typewriter as an instrument on at least two songs: 2000's "Writer's Block" and 2018's "Can't Deny Me."
Rock Forebears
Gigaton rocker "Quick Escape" refers to two huge classic rock bands on its frenzied mars-bound rocket ride off the damaged earth. First there's "Queen cranking on the blaster / and Mercury did rise," and later they tour Kashmir, which seemingly nods to the Led Zeppelin favorite.
Know Code
The band's name logo for this album appears as letters embedded a red EKG type readout. It was created by Vedder and Ames Bros., the graphic design company co-founded by Ament's younger brother Barry, who has done many of Pearl Jam's posters since the '90s.
Team Effort
While Vedder wrote lyrics for most of the songs, and music for some, all of the other members of Pearl Jam also did their share of Gigaton songwriting. Ament wrote the words and music for "Alright" and the music for "Quick Escape." Drummer Matt Cameron wrote all of "Take the Long Way," while guitarist Stone Gossard is responsible for "Buckle Up." Guitarist Mike McCready wrote the music for "Retrograde." All five had a hand in composing the music for "Dance of the Clairvoyants."
Heart
Before fans heard a word of Gigaton, artwork that looked like a heart appeared online. Turns out the album is full of heart references. For example, "Who Ever Said" says, "Home is where the broken heart is," while Ament's "Alright" insists, "If your heart still beats free keep it for yourself."
Hope
Amid all of Gigaton's dire descriptions, as with much of Pearl Jam's music from No Code onward, hope ultimately shines through. "Don't allow for hopelessness," Vedder sings on "Superblood Wolfmoon." "Who Ever Said" says, "I won't give up on satisfaction." Channelling the ocean, "7 O'Clock" tells us to "swim sideways from this undertow and do not be deterred."
The Best Song From Every Pearl Jam Album
More From Ultimate Pearl Jam