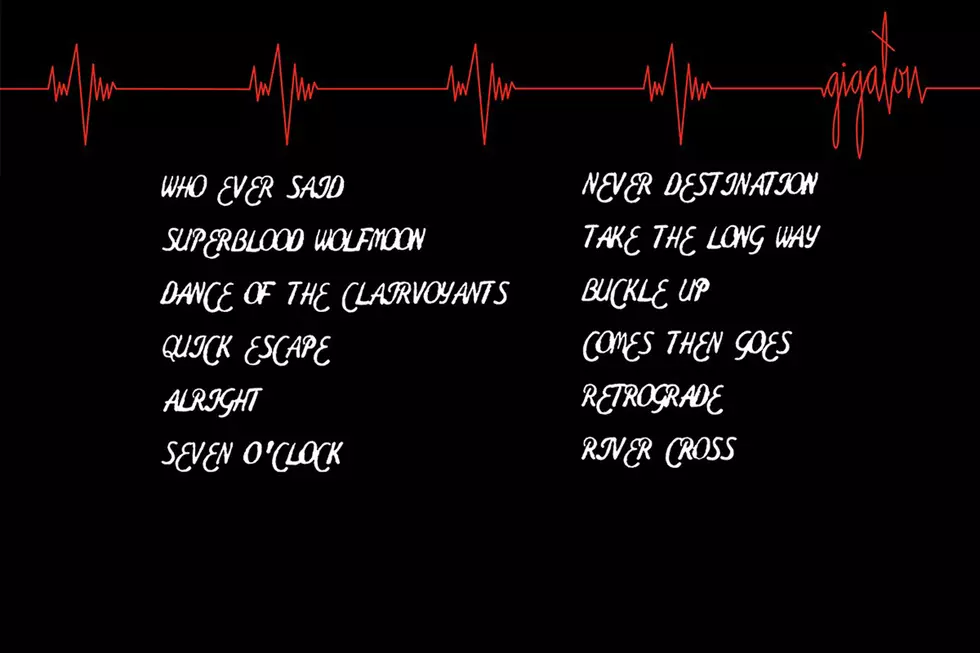 Pearl Jam Announce Track Listing for 'Gigaton'
Republic Records
Pearl Jam have revealed the names of the 12 songs found on Gigaton, their 11th studio album which is coming out March 27.
The band still has yet to officially release the first single, "Dance of the Clairvoyants." However, it's believed that a piece of the song was used as bumper music by Pearl Jam fan Bill Simmons on the Jan. 16 episode of his podcast.
Gigaton was co-produced by the band and Josh Evans, who has been a guitar and keyboard tech for the band since 2008. In the studio, he's worked on side projects by Jeff Ament and Mike McCready, engineered Pearl Jam's cover of Brandi Carlile's "Again Today" for a 2017 benefit album and the standalone single "Can't Deny Me." He also served as an engineer on Soundgarden's 2002 album King Animal.
"Making this record was a long journey," McCready said. "It was emotionally dark and confusing at times, but also an exciting and experimental road map to musical redemption. Collaborating with my bandmates on Gigaton ultimately gave me greater love, awareness and knowledge of the need for human connection in these times."
Although we have yet to hear a lyric from Gigaton, based on its title and cover art of a melting glacier with the band's name rendered as an electrocardiogram, it's possible that the record will have an environmental theme. A gigaton, equal to one billion tons, is the unit of measurement used by climate scientists to denote how much ice has been lost and how much carbon dioxide has been released into the air.
Pearl Jam, 'Gigaton' Track Listing
1. "Who Ever Said"
2. "Superblood Wolfmoon"
3. "Dance of the Clairvoyants"
4. "Quick Escape"
5. "Alright"
6. "Seven O'Clock"
7. "Never Destination"
8. "Take the Long Way"
9. "Buckle Up"
10. "Come Then Goes"
11. "Retrograde"
12. "River Cross"
A Complete Guide to Pearl Jam Lineup Changes
More From Ultimate Pearl Jam