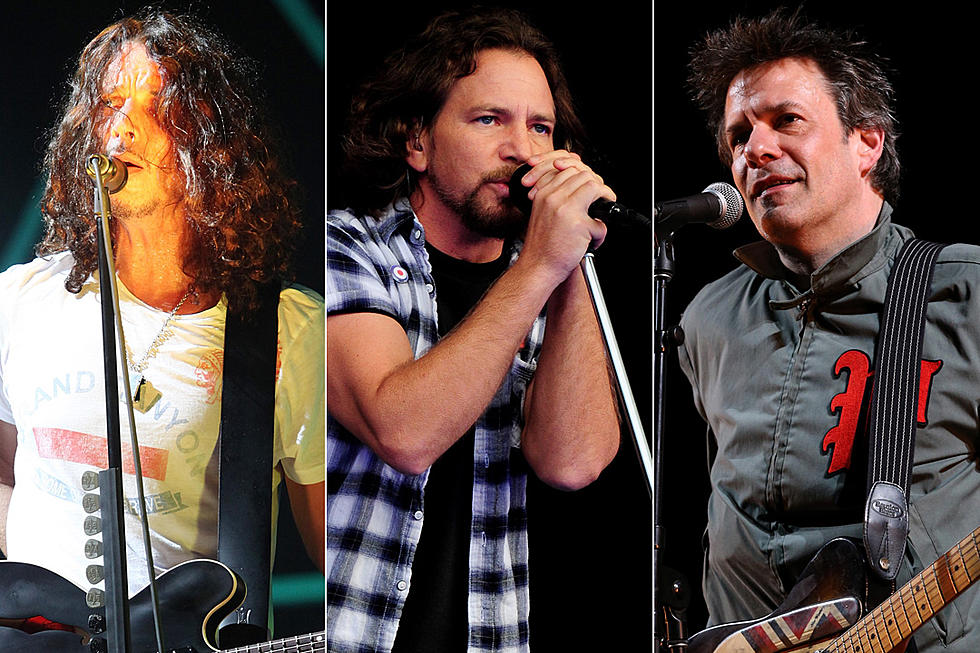 'Singles' Soundtrack Featuring Pearl Jam, Soundgarden and Paul Westerberg to Get 25th Anniversary Deluxe Edition Reissue
Roger Kisby / Gareth Cattermole / Karl Walter, Getty Images
The soundtrack to Cameron Crowe's 1992 movie Singles, which served as a point of entry for many into the grunge scene and featured Paul Westerberg's first post-Replacements compositions, is set to get reissued in honor of its 25th anniversary. Sony Legacy is giving it the deluxe edition treatment, and it is set to arrive on Feb. 17.
You can see the full track listing below, with the first disc being the original soundtrack release by Seattle bands like Alice in Chains, Pearl Jam, Mother Love Bone, Soundgarden, Screaming Trees, Soundgarden and Mudhoney. The extra disc adds songs from the film that didn't make the original CD and demos, including some that Chris Cornell wrote as a lark when he saw titles on a Jeff Ament-designed cassette for Cliff Poncier (Matt Dillon), lead singer of the fictional band Citizen Dick. One of those, "Spoonman," became the first single and breakout hit for Soundgarden on 1994's Superunknown.
However, as of now, it will only be available as an import, with pre-order listings at Amazon's U.K. site for a two-CD and a triple-LP. Consequence of Sound notes that, last May, it was reported that this would be released in August, but never came to pass. It's been in the works since at least 2015, when Billy Corgan revealed that he refused to give the label his demo for "Drown," Smashing Pumpkins' contribution to the soundtrack, because they went back on their promise to push the original version as the single.
"They were pushing Alice In Chains' song 'Would,'" he told KSHE. "Which is a classic, it's a great song. … But 'Drown' actually started to get traction at radio, it was actually our first song that had momentum at radio, and Epic killed the song, because they didn't want it to take away from Alice In Chains. My only revenge was when they came back 20 years later and they wanted to do the reissue of it, and they asked for their demo, and I told them to f— off. Slight revenge, I took money out of my own pocket, but that's the way it goes."
'Singles' Deluxe Edition CD Track Listing
Disc 1
1. "Would?" — Alice in Chains
2. "Breath" — Pearl Jam
3. "Seasons" — Chris Cornell
4. "Dyslexic Heart" — Paul Westerberg
5. "Battle of Evermore" — The Lovemongers
6. "Chloe Dancer / Crown of Thorns" — Mother Love Bone
7. "Birth Ritual" — Soundgarden
8. "State of Love and Trust" — Pearl Jam
9. "Overblown" — Mudhoney
10. "Waiting for Somebody" — Paul Westerberg
11. "May This Be Love" — Jimi Hendrix
12. "Nearly Lost You" — Screaming Trees
13. "Drown" — Smashing Pumpkins
Disc 2
1. "Touch Me I'm Dick" — Citizen Dick
2. "Nowhere But You" — Chris Cornell
3. "Spoonman" — Chris Cornell
4. "Flutter Girl" — Chris Cornell
5. "Missing" — Chris Cornell
6. "Would?" — Alice in Chains
7. "It Ain't Like That" — Alice in Chains
8. "Birth Ritual" — Soundgarden
9. "Dyslexic Heart" — Paul Westerberg
10. "Waiting for Somebody" — Paul Westerberg
11."Overblown"— Mudhoney
12. "Heart and Lungs" — Truly
13. "Six Foot Under" — Blood Circus
14. "Singles Blues 1" — Mike McCready
15. "Blue Heart" — Paul Westerberg
16. "Lost in Emily's Woods" — Paul Westerberg
17. "Ferry Boat #3" — Chris Cornell
18. "Score Piece #4" — Chris Cornell
Soundgarden Albums Ranked in Order of Awesomeness
More From Ultimate Pearl Jam